Photo Session at Pico do Arieiro – Best Photogenic Spot for Wedding, Proposal and Love Story
Many couples choose Pico do Arieiro, the Arieiro Peak – one of the highest peaks in Madeira, for their sunrise or sunset photo session and stay speechless afterward. Imagine, you are above the clouds surrounded by high mountain peaks, the sun paints the clouds into yellow, red, and purple. A great image, right? Doing your wedding, proposal, or love story photo session above the clouds in Madeira is a brilliant idea, but you need to know some details before making up your mind. In this article, we will explain how to prepare everything to get the best out of this very photogenic place in Madeira.
Prepare yourself to fall in love
with Pico do Arieiro
1. Choose a day with good weather conditions
It is not a secret that weather can ruin the entire shooting plan. Thick clouds can cover the Arieiro Peak. Or the wind's gusts can be 100 km/h there. Or it may rain/snow all day long. That's why we need to check the weather forecast (the most precise one), webcam, and rely on locals. You cannot trust the webcam for the sunrise photo session – nothing is visible at night through it. Nevertheless, the webcam works fine for the sunset session.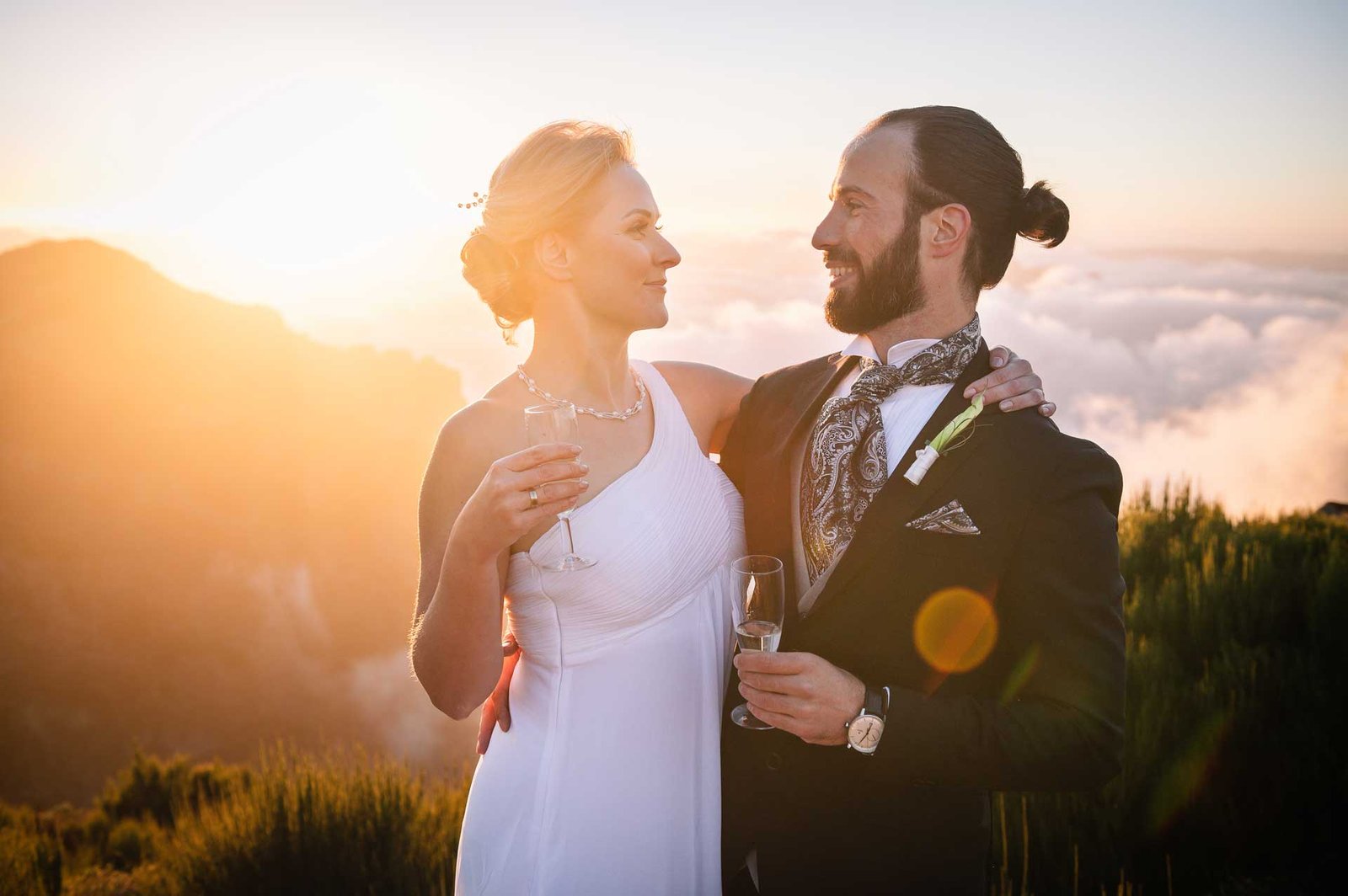 There are days completely not suitable for the shoot there. Usually, it happens during winter and early spring. If you come to Madeira for one week, we probably may find a few great sunrise/sunset options for you even on rainy days.
2. Take warm clothes with you
Weather in mountains is tricky. It changes during the day a lot. Might be cloudy, windy, hot, cold, raining, or even snowing. It is very rare, usually in the summer, that Arieiro Peak offers calm and warm conditions for the shoot. Therefore, to get some epic photos you'll need to prepare yourself for some sacrifice. Do not forget to bring warm clothes with you. You won't regret it, believe me! As a professional photographer that took countless photos there, I know what I am saying. You may walk to the point of shoot, then take off the jacket, take a few photos and then dress up again.
3. Choose right timing
Sunrise photo session at Arieiro Peak
Arriving at Arieiro Peak in advance is crucial. To witness the magic light you need to be there 30 min before the sunrise. It may seem too early, but it is worth it.
Early in the morning, in complete darkness, you need to walk a few hundred meters to the best sunrise watching spot. Also, it takes some time to make yourself comfortable with the photographer.
Magic happens before the sunrise and just a few minutes after. There will be warm light, mountains, clouds, and your feelings. Later, when the sun is high, all the magic's gone.
Sunset session at Arieiro Peak
If you are not an early bird, then sunset time is an option for you. The best time for the sunset photo session is 30 min before the sun hides below the horizon and 10-15 min after. Anyway, it is better to be at Arieiro Peak 1 hour in advance: to get to the spot, to warm up in front of the camera, etc. Usually, when we come to Arieiro Peak, we do not have a lot of free time. There are so many great spots for taking pictures!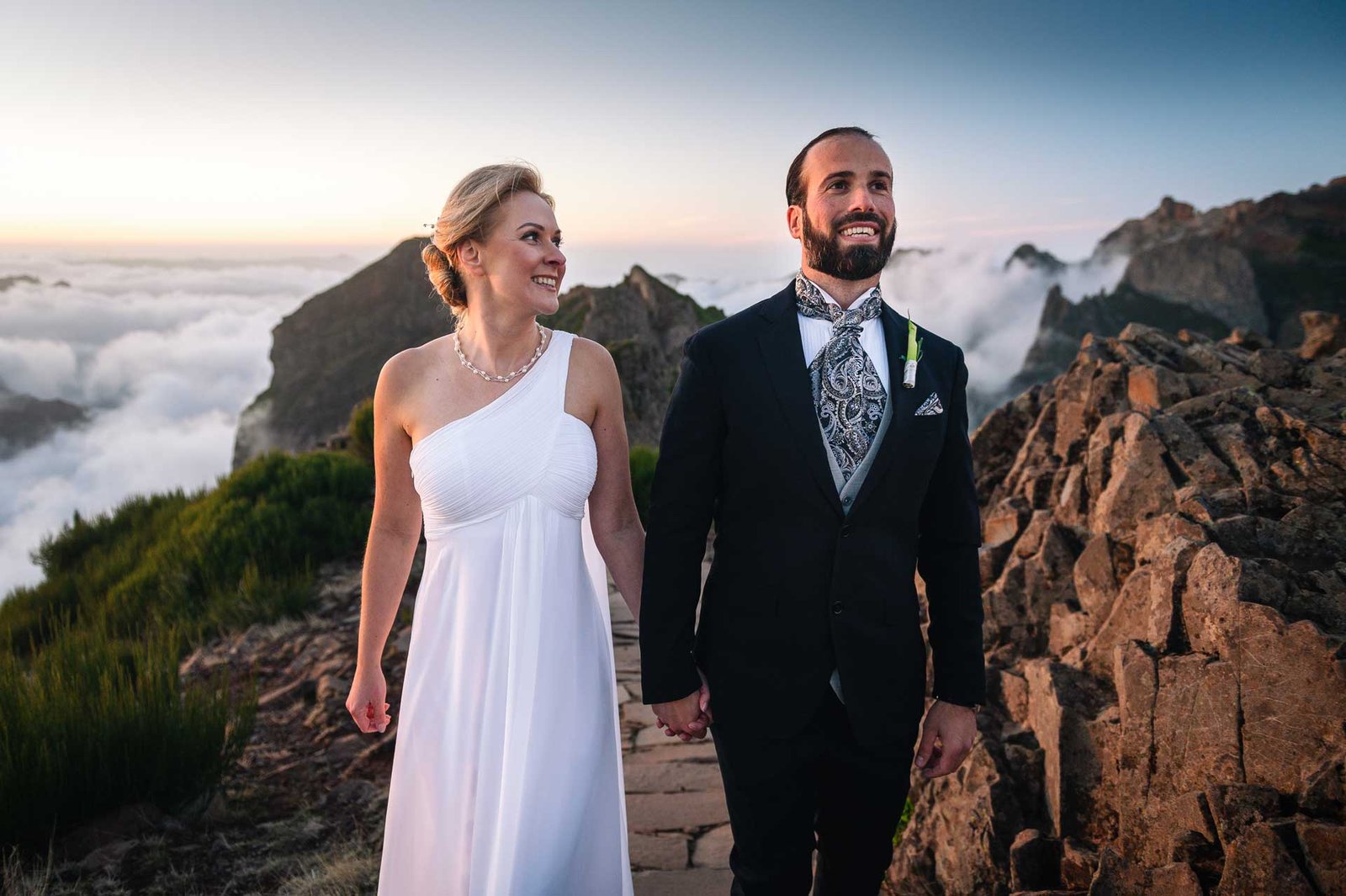 Some minor things to consider before you fall in love with a photo session at Pico do Arieiro
One important thing to consider is driving in mountains. Many road curves, ups, and downs, narrow inclined roads to the Arieiro Peak may cause some delays If you are not an experienced driver. To get there on time, just plan accordingly with your driving skills.
Another thing to keep in mind while planning a wedding or love story photo session at Arieiro Peak is locals. You may come to the parking lot, find an interesting spot, and wait for the moment, but in just a hundred meters, there is a much better place completely without people. That's why local guides, photographers, or taxi drivers are saving your time while showing you the best Madeira can offer.
If you are looking for the most photogenic spot for your wedding, proposal, or love story photo session in Madeira, you have just found one – Arieiro Peak. It is a great option if you like not only to witness the beauty of high mountains, cloudscape, warm sunlight colors but to have a memorable photo session there. In Art Photography Madeira we know how to do it.
---
More couples-in-love photo sessions are in our blog and here:
Photo session of a Marriage Proposal in Madeira
Romantic Wedding Photo and Video Session in Madeira: Key Ingredients
Write to us and we will arrange the photo session and the trip. We respond quickly!
info@islandpic.com
WhatsApp: +351932086434
---
Our social media:
---