Photo Session of Surprise Wedding Proposal in Madeira. She'll say yes!
The photo and video session of a proposal is the purest form of reportage. They need particular skills: to react and identify the best angles and composition quickly. And what if the proposal is a surprise? We need to shoot emotions – surprise and amusement – in the best possible way. Especially if it is taking place in a tropical paradise on the island of Madeira! Today, we will speak about the best practices of making a photo session of a surprise wedding proposal in Madeira.
Photo session of a surprise wedding proposal: preparation
So, what do we know? We have a couple in love who wants a beautiful photo session in Madeira. Also, we have stunning locations on the island: mountains, black sand beaches, volcanic rocks, endless ocean, and unique laurel forests. We have as well an experienced team of photographers and videographers. From these ingredients, we are going to make something beautiful and romantic – the reportage of a surprise proposal in Madeira.
As a rule, it is the groom who orders a photo session. He wants to surprise the bride and capture this moment. Future husbands act as producers on a film-shooting scene. They control the scenario, approve ideas for the photo session, and tell the photographer what to focus on. As photographers, our task is to make everything as natural as possible but also beautiful and unique.
How it happens
We develop a general scenario for the photo session which masks the future surprise proposal. The general idea can be for example a love story photo session in beautiful places on the island. The bride relaxes after the first location in our route and doesn't expect any surprises. And the groom, as agreed, gives us a signal – a phrase or a special sign – and we understand what is going to happen. At this moment, our faces don't show any new emotion, and the bride and groom are the focal points. Even if the bride is suspecting something, she doesn't know that the proposal will happen at this exact moment. So, the avalanche of emotions is guaranteed! Eyes full of tears and happiness. Or even playful punches addressed to the fiancée for such a surprise! You can't fake it or repeat so the photo and video filming needs to be done in one go.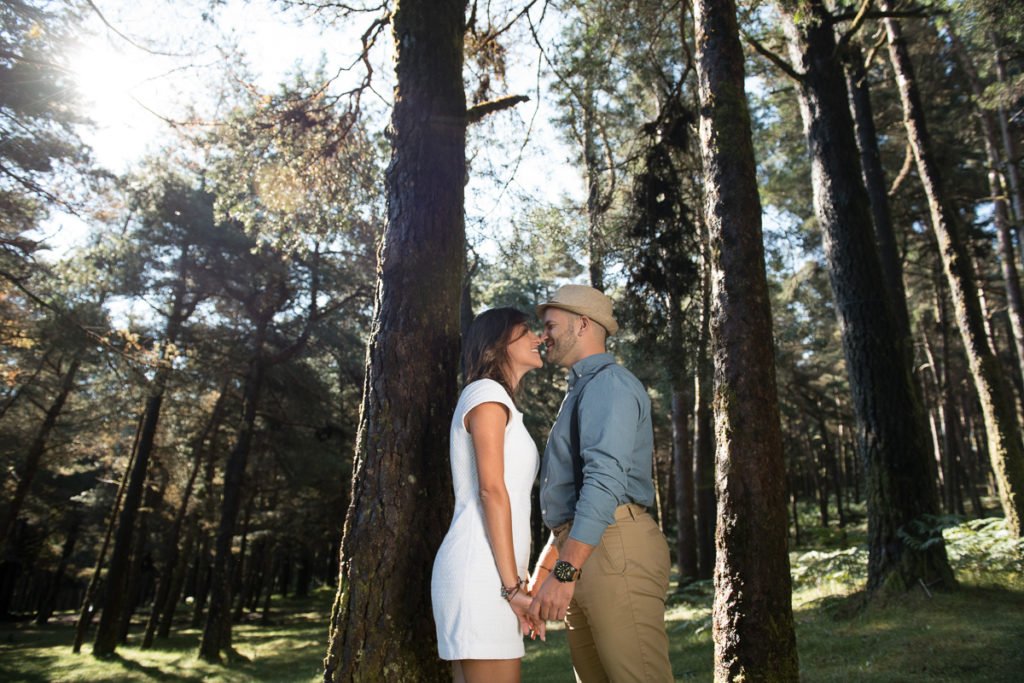 Technical Tips
Some technical details about the photo session for professionals.
– Shutter speed no longer than 1/250. Blur disappears on medium-focus lenses.
– 1/400 and 1/500 on a bright sunny day are optimum.
– Aperture from f4.0 and to more closed values (f5.6 – f8).
We are shooting in series like a sporting event (the maximum your camera can do: from 3-4 frames per second and above). It is because out of 6-7 frames you will have only 2-3 images where your models have their eyes open. And from these few, you will need to choose the best.
Then you need to shoot close-ups: tears (if any), the ring in the box, the ring on the finger, faces of the bride and groom closely. We shoot general views without a hurry when emotion settles down a bit. As you see, a wedding proposal photo session in Madeira requires top skills from all the participants.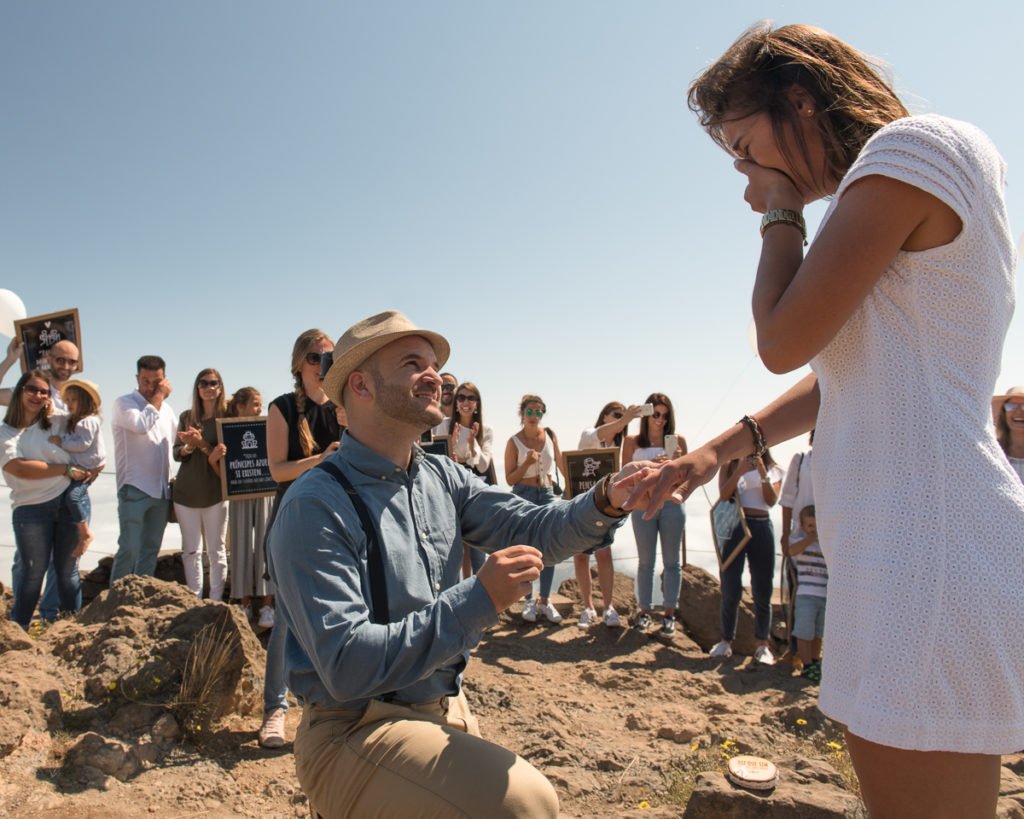 What we film during a surprise wedding proposal shoot
With video filming, it gets a little bit more complex. At different moments of the proposal, you need to film different things. In the beginning, we are filming the groom from the bride's perspective so that the audience could understand what is going on.
During the proposal itself – we are filming a general perspective with both of them. The groom is on the knee, the bride is stunned. The reaction – the bride's face close up. Emotions, tears, smiles, sparkling eyes. The final touch – half-length portrait of the couple hugging with the beautiful nature in the background. You can also add a close-up of a kiss.
It doesn't sound too complicated but there is one obstacle. Is the photographer who is hanging out around you and gets into the view. What can you do so that both of you have a great result? Firstly, agree on who moves where during the shoot: clockwise or counterclockwise for example. Another option is for the videographer to lead and the photographer to get cues and not to intervene. One more scenario is to work with the lenses of different focal lengths. The photographer can have ones of 70-200 mm and work from far, and the videographer 24-70 mm and be close. You need to have a directional microphone, no in-built ones. Otherwise, you will pick up all the noises around.
Photo or Video? Both
Why is it important to shoot not only a photo but also a video? Because only the video can transmit sounds – laughs, screams, promises, and words of love.
Secondly, the video invites you in that precise moment, and it is very important for showing what is going on. Finally, you can ask for a photo and video session with a drone, and it will show the full majesty of the moment and of the surrounding nature. This is why, when you are planning your wedding proposal photo session in Madeira, think about video, too.
So, the combination of the photo and video is perfect.
We hope this article will help you in the planning and realization of your secret proposal on the beautiful island of Madeira.
You may also want to know more about the elopement photo session in Madeira and the best places for a quick photo shoot of a wedding or a love story in Funchal if you don't have much time. Browse our blog for more posts and check the Youtube channel of Art Photography Madeira for more videos.
---