Romantic Wedding Photo and Video Session in Madeira: Key Ingredients
In this post, we will help you to plan your wedding photo and video session in Madeira so that it has all the key ingredients and you receive beautiful romantic images of a just married couple. Later, all your friends call it a perfect wedding and crave the same.
A wedding day is the one that has the fewest number of hours compared to all other days. If you don't believe it – just ask any married couple! Morning turns into the afternoon, then the night in a blink of an eye. There is very little time for anything.
Planning of romantic photo and video session
When a bride and a groom plan that special day, they usually book hours for a hairdresser/makeup artist; a trip to the church or a civil registrar, and the ceremony itself; cocktails with guests and the celebration dinner. This is already more than enough for one day. But we haven't even started planning a wedding photo and video session on the beautiful island of Madeira here.
There are several types and modes of wedding photography. Nevertheless, we would like to concentrate on a romantic wedding photo and video shoot. Or so-called wedding walk/ wedding love story – there are several names for that.
The main idea of this romantic photo and video session is to have only the bride and groom in the frame at some beautiful location in Madeira – and no one else. This type of footage allows us to concentrate on feelings, emotions of the newlyweds. Also, we can shoot some exceptional stunning solo and duo portraits of two people in love. This is possible only when you have time and space for that.
Unfortunately, during the hectic wedding day, the bride and the groom can't always find an hour for this dedicated photo and video session. But at Art Photography Madeira, we believe that this footage is very important. It is something that you will cherish for many years to come. So, how is it better to organize it?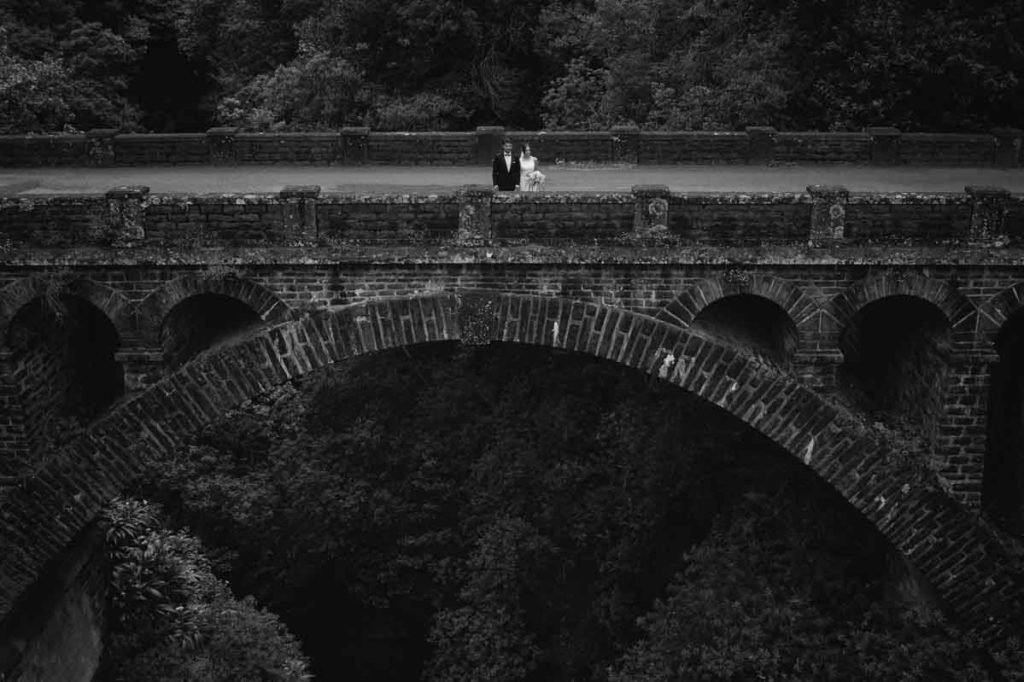 How to plan a romantic wedding photo and video session
So let's take a closer look at a wedding walk or a romantic wedding love story photo and video session in Madeira. If the newlyweds have time between the church and the restaurant, it would only be logical to use it for a photo and video shoot. Depending on how much time you have, you can choose different locations – mountains, cliffs, the seashore, or you can find something nearby – a park, for example, or quiet picturesque streets in the old part of the city. Luckily, Madeira has plenty of that, even in the capital, Funchal.
Attention, for a shoot in Madeira, you need to have Plan A and Plan B: if there are delays and the opportunity to go to a distant location disappears, turn to something nearby. It can be a Tropical or Botanical Garden in Funchal. From our experience, even a well-arranged schedule can have sudden overlaps, and a two-hour walk can become only forty minutes.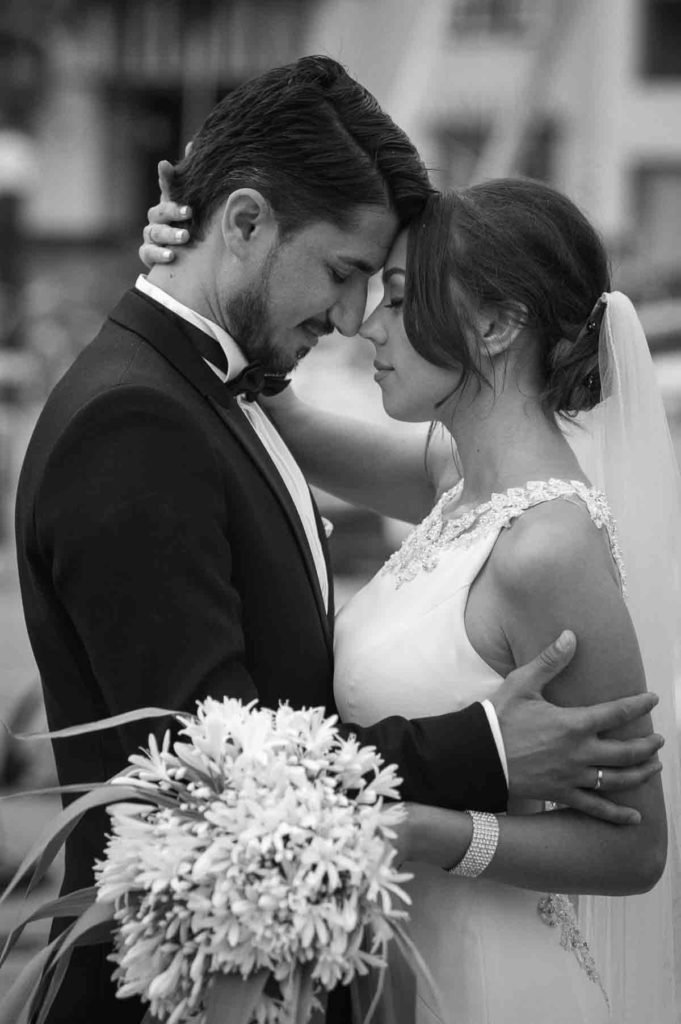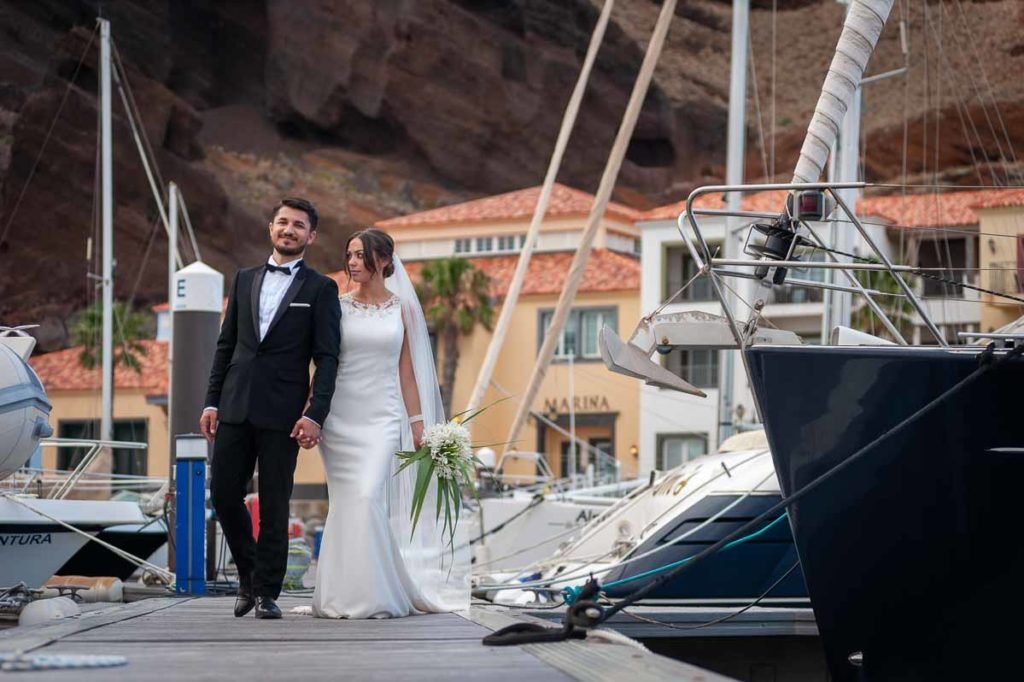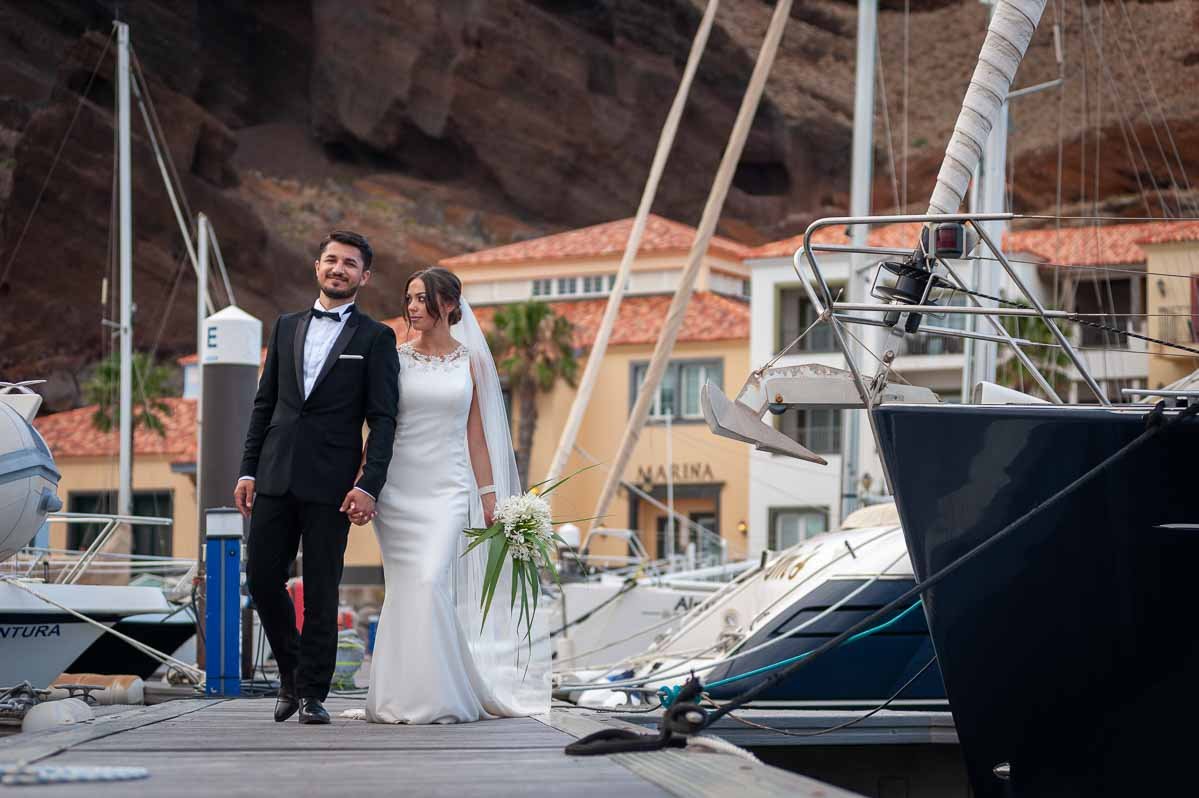 What to shoot during romantic wedding session
What to shoot during this romantic photo and video session? How to turn it into an interesting story? Each couple can tell you about the interesting moments of their relationship, talk about their favorite places or locations which make sense only to the two of them. If the viewpoints are worthy for the shoot, and they match the timeframe, include them in the romantic walk.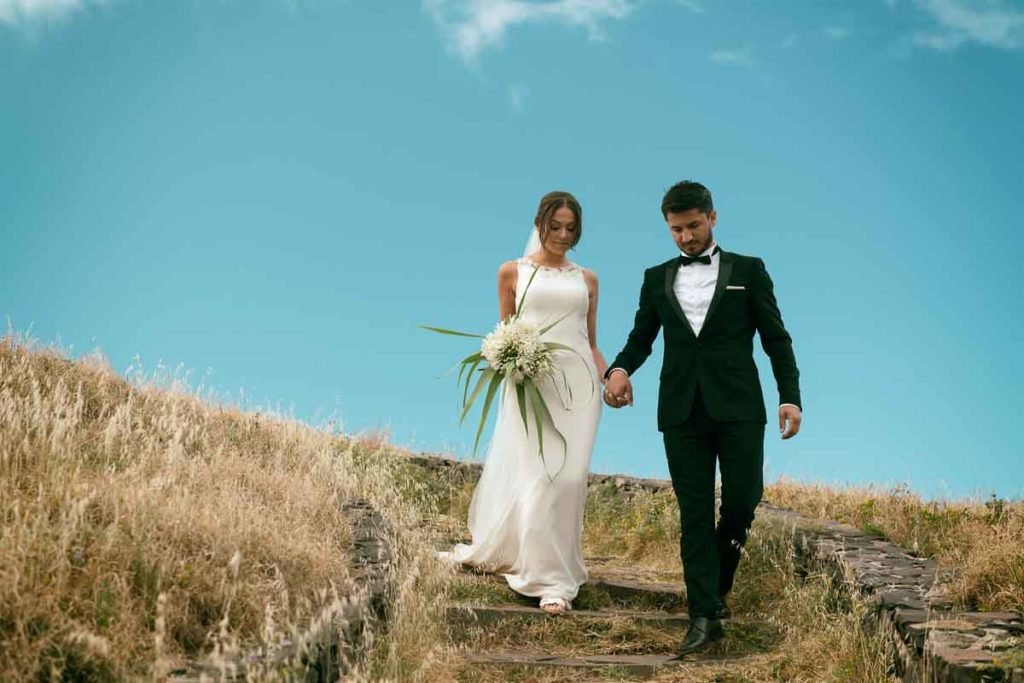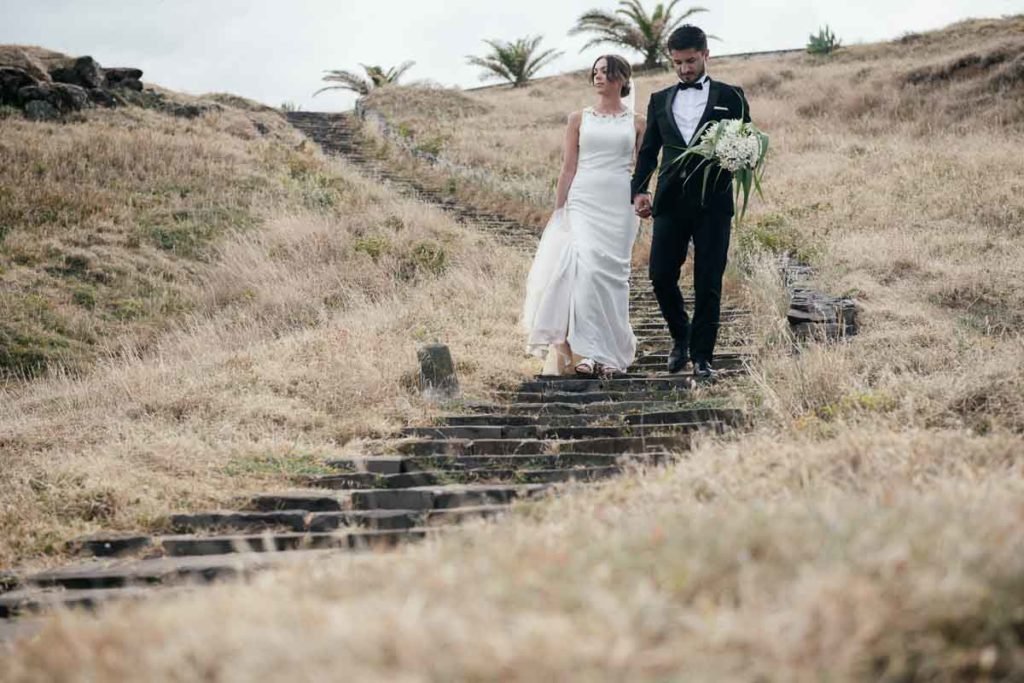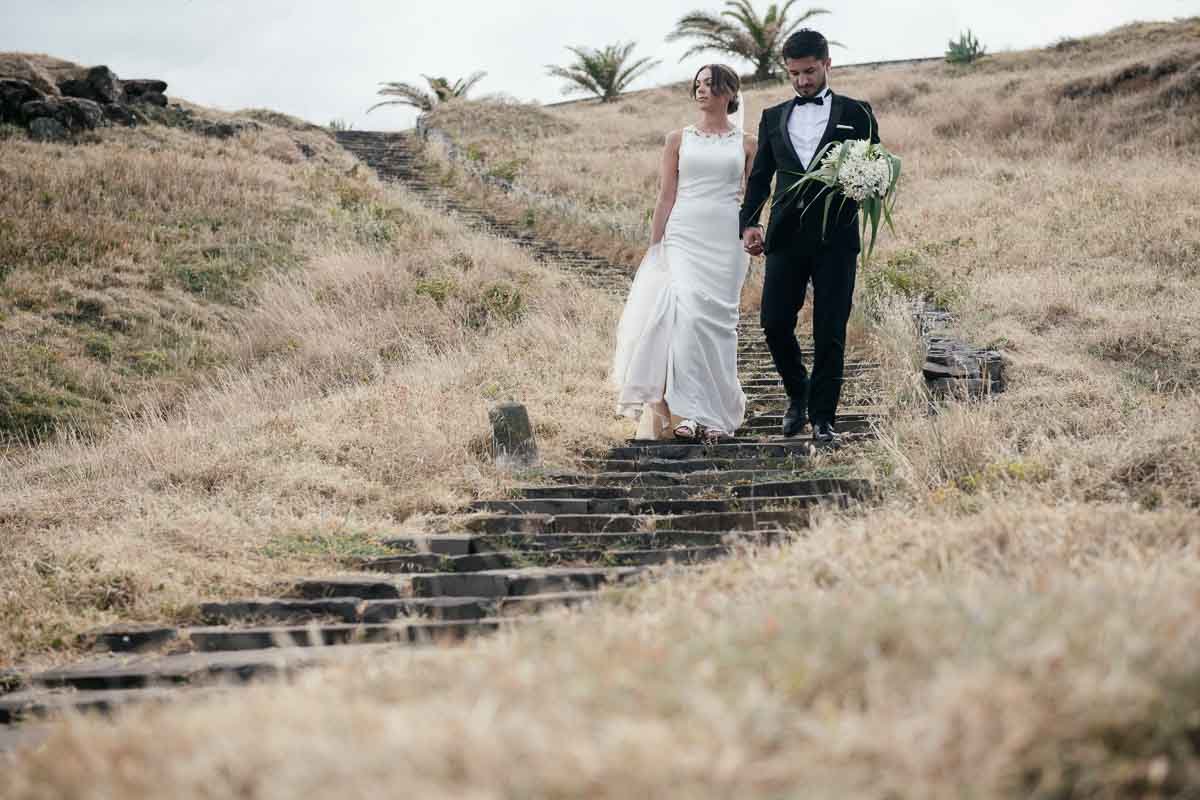 Also, keep in mind that some of the photos from the romantic wedding walk will most probably appear in the wedding album afterward. It's understandable: they look very solemn, clean, well-framed, and usually compliment the looks of the bride and the groom, adding a beautiful touch to the whole album.
Therefore, a photographer and a videographer need to capture very diverse images. This includes full-body shots with a lot of background – sky, ocean, mountains; also, some half-body and headshots, finishing with photos of details and accessories such as the rings, the details of the dress, the bouquet, the watch and cufflinks for the groom.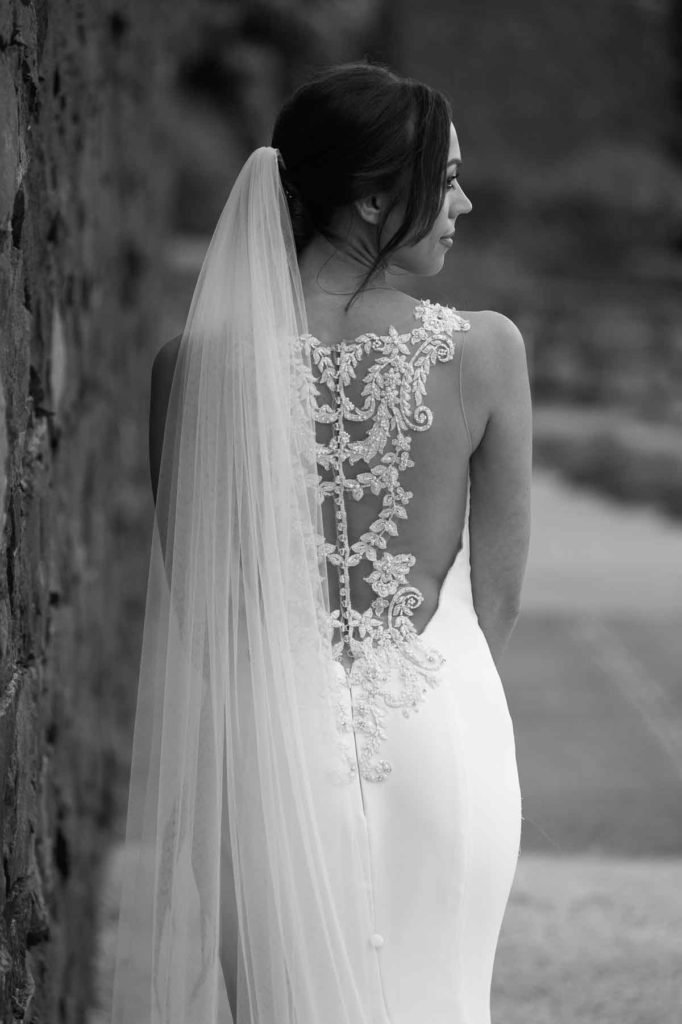 The most important part of the wedding photo and video session
Finally, the most important part of the wedding love story photo and video session is emotions. But they are not so easy to evoke at the very beginning of the photo or video session. We will tell you about our approach.
Firstly, it will help if the photographer and cameraman can make the couple feel comfortable and relaxed. However, this is a gradual process. As a rule, we begin with full-body portraits from the distance. The couple is feeling more at ease when they are some meters away from the filming crew.
By the full-body shots, we build the image of a new family through simple symbols that everyone understands. Symbols like two trees, hand in hand, some static pictures with space and volume around the couple are simple. Madeira has many locations suitable for this type of photography and videography. There are plateau in the mountains with a good view, a deserted beach, an empty road, or a glade in the forest.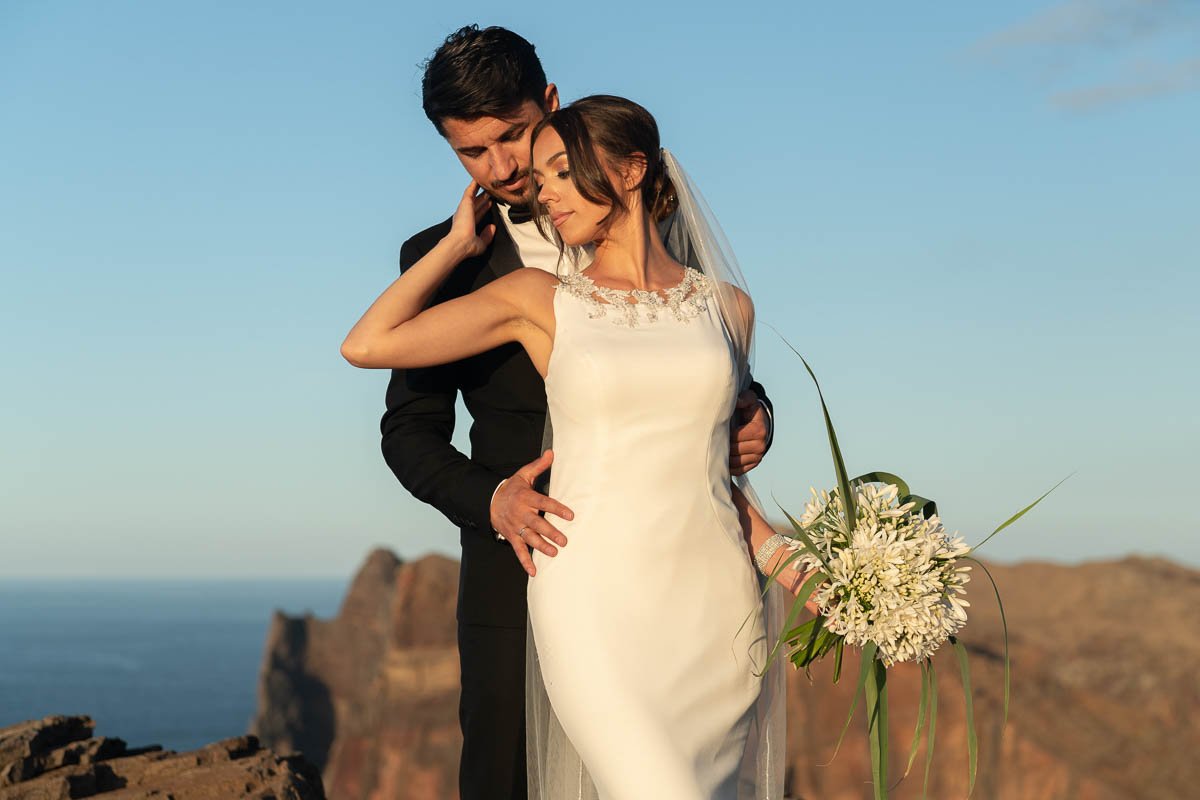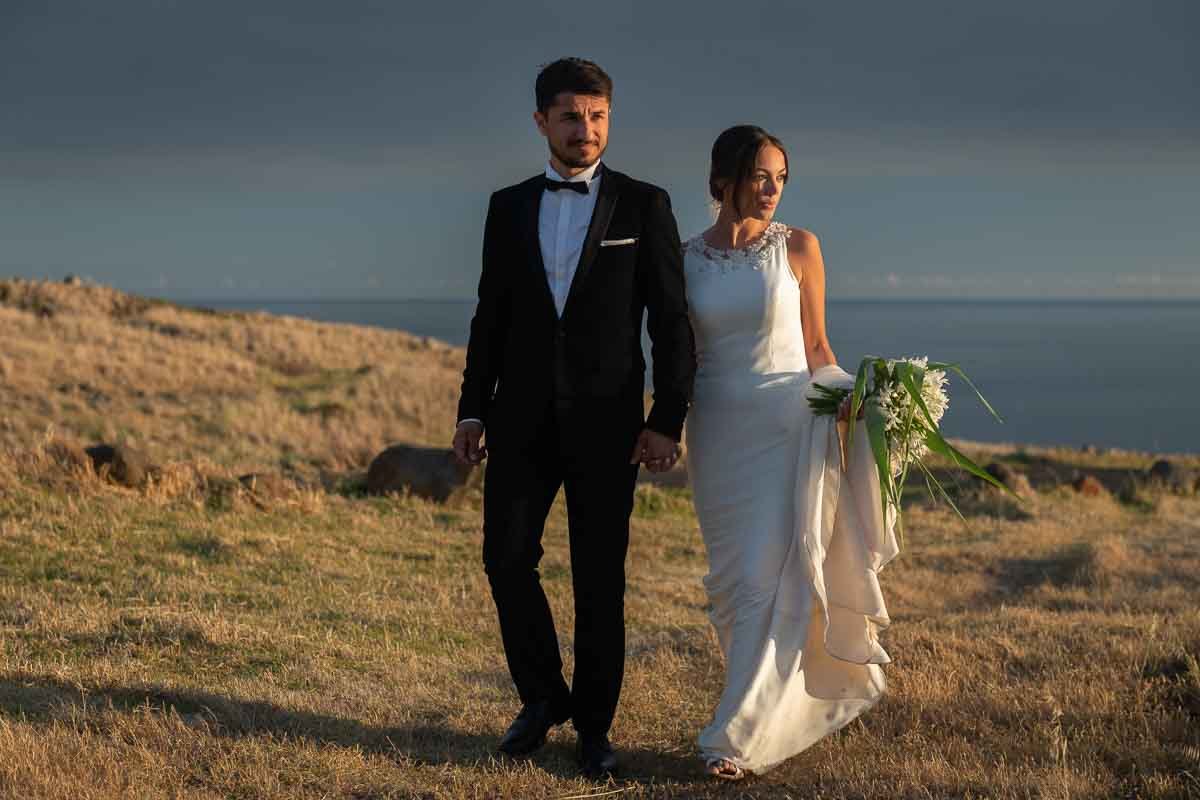 Now the couple is getting tuned in the photo session, and a wide-angle lens is our tool.
Time to shoot the details
The ice is already melting, and you can shoot the details up close, paying attention to gestures and glances. Such photos are best taken with telephoto lenses with a focal length of 80 mm and higher. This way, you will not literally shoot into the faces of the couple but will work from 2-3 meters distance. You will fill in the frame with the necessary details.
The couple already feels more relaxed at this stage. You can ask them to turn for better lighting and direction. At this moment, the photographer should notice the best angles for both the groom and the bride.
In order to finally relieve the tension of the couple, ask them to walk along together. Try to shoot full-body portraits from afar. The images will be more dynamic. However, the couple will be distracted from the thoughts about the difficulty of working as photo models.
Then you can pause the dynamic walk and continue with real close-ups. Now the couple is comfortable to hug and kiss. Our task is to focus on emotions, close-ups of eyes, touches, etc. This is the most important part of the shoot.
Conclusion
If everything is done correctly, the couple looks very good and natural – and eventually satisfied with the result!
Whatever the weather during the wedding walk, with these tips and tricks there should be a lot of high-quality material with the happy newlyweds!
Read more of our stories with photos:
Photo Session of Civil Wedding in Madeira
Photo Session of Surprise Wedding Proposal in Madeira. She'll say yes!
Eloping to Madeira: 5 Things to Know for the Memorable Photo Session of Your Wedding
Contact us to find more information and book a shoot with Art Photography Madeira. We provide discounts for package bookings!
---
Write to us. We respond quickly!
info@islandpic.com
WhatsApp: +351932086434
---
Our social media:
---