4 Things You Need to Know About Planning a Wedding Photo Session in Madeira
Many couples choose exotic places both for a wedding and for a wedding photo session. Madeira is often the destination for such events. Here we summarize our experience in planning a memorable wedding photo session in Madeira
1. Wedding Photographer
The first and most important thing is choosing the photographer and his or her team. Choose them responsibly, because the result of the photo session and your memories about one of the most important events in your life will depend on it. What factors need to be considered and what to look for?
Photographer's Portfolio
Start the acquaintance with the portfolio of the photographer, carefully study the site, and the Facebook page. These should be the best works of an expert. A professional will not put weak or defective images in the portfolio. The sense of beauty is checked at this stage. If you don't feel connected with the style, ideas, quality, or color decisions of the photographer, it is better to start looking for others.
Photographer's Team
If the photographer works alone, without the help of a lighting assistant, it is a big minus that reflects on the quality of the images. Portraits may come out with dark shades instead of eyes, or people will have "flat" faces – a characteristic of using an inbuilt flash instead of a reflector. Working alone with backlight without a reflector or softbox is very difficult.
The assistant does not only help with the modifiers of light (reflector/diffuser, softbox, external flash), which improves the picture but can also take pictures with a second camera. Besides, an assistant can cope with small, but very important details of the shooting – hairstyle shredded by the wind, folds on the dress, relax the atmosphere with jokes and help with directions, etc. A photography team is always better than a solitary guy with a camera.
Terms & Conditions
Pay attention to the terms of the photo delivery. It should not be months. Two-three weeks are understandable but how can one explain four months? Personally, we do not believe that all this time was spent on your photos.
Now that we know what a photographer should do, it's time to move to other factors of a great wedding photo session.
2. Weather
One of the most significant factors, after the photographer, is the weather. In this article, we will not consider shooting a wedding in a studio – after all, you do not need to go to Madeira for this.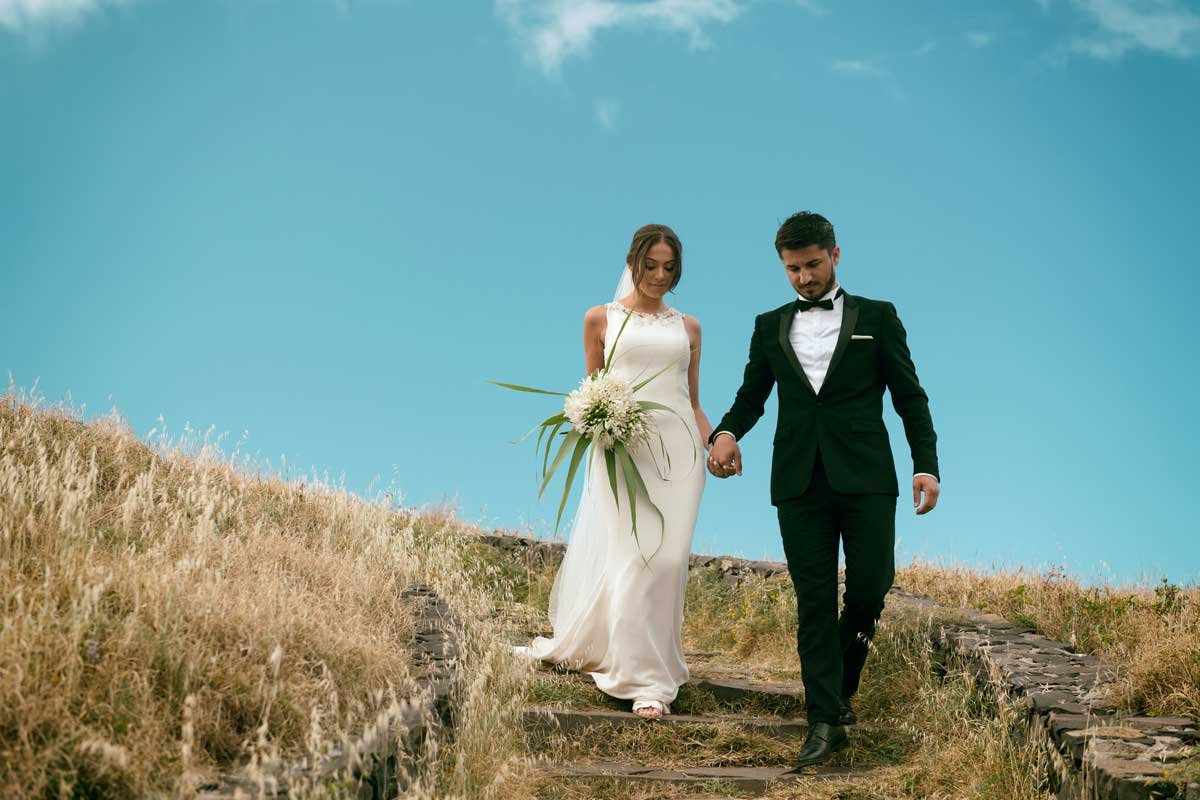 The value of the island in the Atlantic is perfect weather all year round. The temperature varies between 22-24 C in summer and 16-20 C in winter. The climate is mild, without sudden changes in daily temperatures. There is a so-called rainy season – from December to April, but even in this period, there are locations that "reveal" during rainy weather. In summer, a cyclone with rain and wind can pass by, so a spare plan should be ready for all weather conditions. Having a Plan B will ensure that you can shoot newlyweds all year round.
Weather Conditions on a Site
Another factor as important as the weather is the place of shooting: the mountains, the sea, a forest, or the old town. In Madeira, there is plenty of everything: the ocean around, mountains with forests, mountains with rocks, black volcanic sand, white sand on the neighboring island – Porto Santo, tropical trees, pine tree forests, and relic laurel forests of UNESCO heritage. All on one island!
Not all couples are comfortable with a photo session on rocky peaks. Being afraid is normal. Assess your capabilities and be realistic. If you have altitude sickness, choose mountains as a background, not a place of shooting.
The ocean here is everywhere. Volcanic natural pools can be a very good entourage for Love Story and Trash the Dress sessions. However, be careful with black volcanic sand. The beach can be beautiful during a sunset, but the black sand itself can add heaviness to the picture.
For white sand, you can go to Calheta or Machico. But make sure you really want it. In the daytime, both beaches are very crowded, so the only available time is early in the morning while the rest of the people sleep. On the other hand, if you want an uninterrupted shoot on the white sand, you can go to the island of Porto Santo. Several kilometers of a sand beach is available there all year round. Porto Santo lies 2 hours away from Madeira by a tourist boat. In summer, the boat goes twice a day both directions, in winter – only once a day – in the morning Funchal-Porto Santo, in the evening – back.
Weather in Laurel Forest
In rainy and cloudy weather, you can get most of the relic laurel forest in Madeira. It is located at the altitude of 1000 m above the sea level. In summer, it's warm here, but in autumn, winter and spring the temperature drops dramatically. Maximum 10 degrees Celsius and rain with wind don't make the photo session comfortable, but in the end, you will take several unique pictures home. A forest on a cloudy day will accentuate the feelings of the couple and the solemnity of the moment.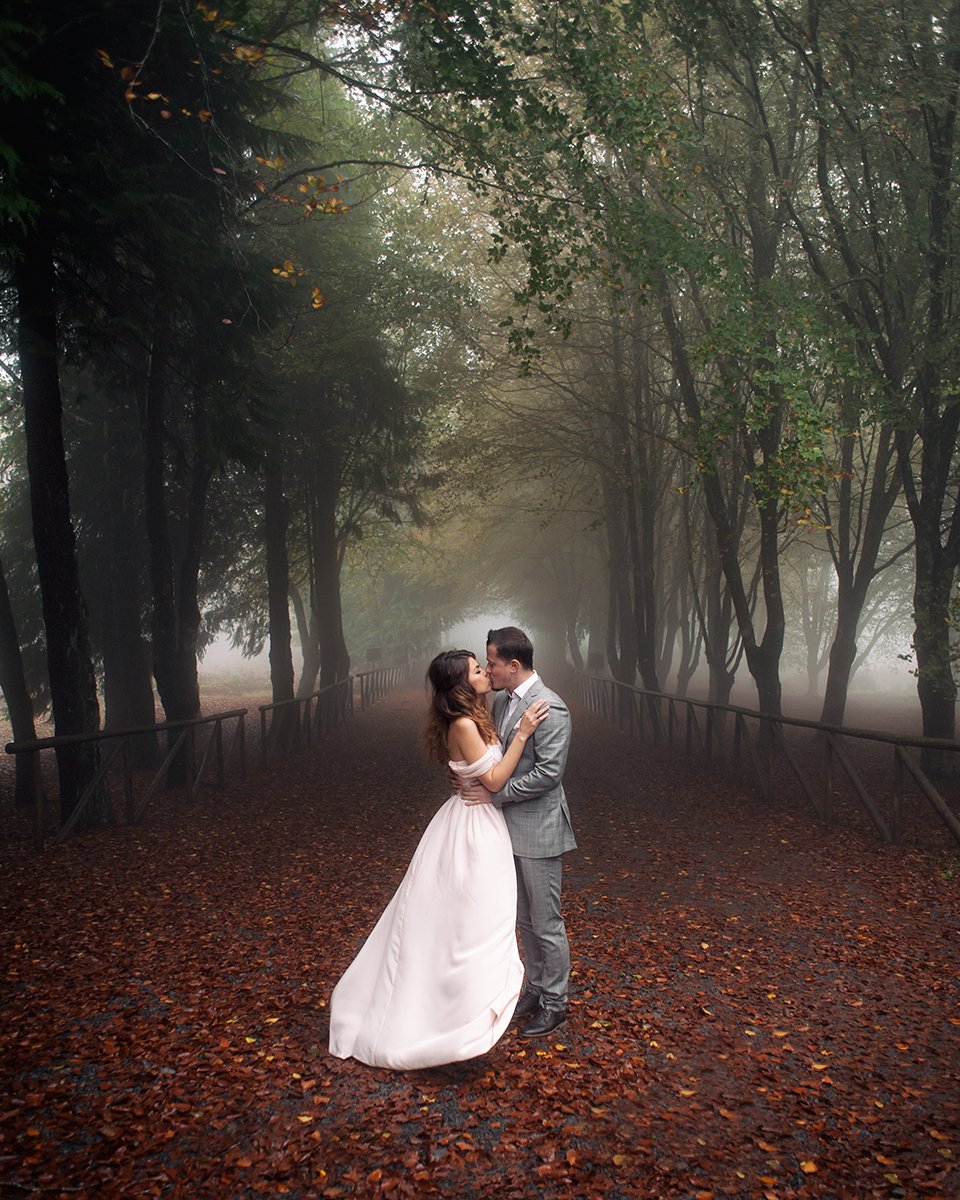 Planning a wedding photo session in Madeira is an interesting task, and the weather can provide many surprises. Nevertheless, a good photographer should have locations for Plan B – so that you get a great result.
3. Emotions
Additionally, we need to speak about the emotions of Just Married. They depend not only on the photography team, weather, and a competently chosen location but also on the couple.
A good positive mood and ease are very visible in the photo. Open relaxed faces with smiles and loving eyes are very photogenic. The success of the photo session depends on your mood immensely, sometimes even more than on the abovementioned factors. The best pictures are those where the emotions of a couple are clearly visible.
4. Clothes & Make up
It is also necessary to say a few words about clothes and make-up. Ideally, these are real wedding dresses of the couple. But if you do not have the opportunity to bring your dress and suit, you should opt for simple outfits: for the groom – trousers and a shirt (colors and textures are up to you, but the simpler, the better), for the bride – a summer elegant dress with a calm color scheme. It's better to focus on comfort rather than intricacy.
If you don't feel at ease in the clothes, it will be very visible in the photo, and you won't like it. Also, take comfortable shoes. Even if you prefer to be photographed on high hills or model leather shoes, it's better to have something to change after – walking may be involved.
As for the bride's make-up and hairstyle, here are professional makeup artists and hairdressers, but you need to contact them well in advance – for example when you are choosing a photographer. By the way, most of the photographers have established contacts with already well-proven professionals in the beauty area.
Summary
Let's sum up our article about planning a wedding photo session in Madeira and the important moments. First, you need to get to know the photographer and their portfolio. If the style suits you and the photos make a good impression, the next logical step will be to find out all the conditions of their work. Ask the photographer about a makeup artist and a hairdresser if you need them, or deal with this issue on your own. Just do not postpone the task for the last day.
Secondly, decide on the main places and Plan B shooting locations. If you are attracted by mountain landscapes with clouds at your feet, volcanic rocks, relict laurel forests along with tropical palm trees and ever-flowering gardens, endless ocean, Madeira is exactly what you need.
Next, pay attention to the weather on the island. From May to November, there are a few rainy days and the probability to catch sunny weather is much higher than from December to April. Although even in cloudy weather, we can plan a memorable and beautiful wedding photo session of a couple in love.
Bring a good mood, comfortable and elegant clothes and come to the island of Madeira! It's all at your disposal. Enjoy the great pictures and unforgettable impressions!
---
Read more in our blog and here:
Eloping to Madeira: 5 Things to Know for the Memorable Photo Session of Your Wedding
Photo Session of Surprise Wedding Proposal in Madeira. She'll say yes!
Photo Session of Civil Wedding in Madeira
Contact us to find more information and book a shoot with Art Photography Madeira.
---
Write to us. We respond quickly!
info@islandpic.com
WhatsApp: +351932086434
---
Our social media:
---