Wedding in Funchal: Best 6 Places for an Awesome Photo Session if You Don't Have Much Time
A romantic wedding photo session usually happens after the church ceremony and before the cocktails with guests. But where do you go for such a photoshoot if you have only one or two hours? We have prepared six best places in Funchal for an awesome wedding photo session. They will not take too much time and will guarantee a great background for newlyweds.
Every wedding is unique in its way, but there is one thing that each of them shares: lack of time. Even if you plan this important day minute by minute and prepare for any unexpected turn, the wedding day is anyways full of people and events. There is very little time the bride and groom can have for themselves and for an awesome wedding photo session where they will be left alone and take truly romantic photos in the gorgeous wedding outfit.
The magnificent park overlooking Funchal can provide awesome locations for the wedding photo session. A variety of vegetation, narrow alleys with natural arches and a small pond will become a great background to show the warm feelings of your romantic story. One of the advantages of Palheiro Gardens is that the place is slightly remote from the Funchal center. Even on a busy sunny day you will be able to find some privacy in the park and take wedding pictures without any people behind. As if the whole universe belongs only to the newlyweds.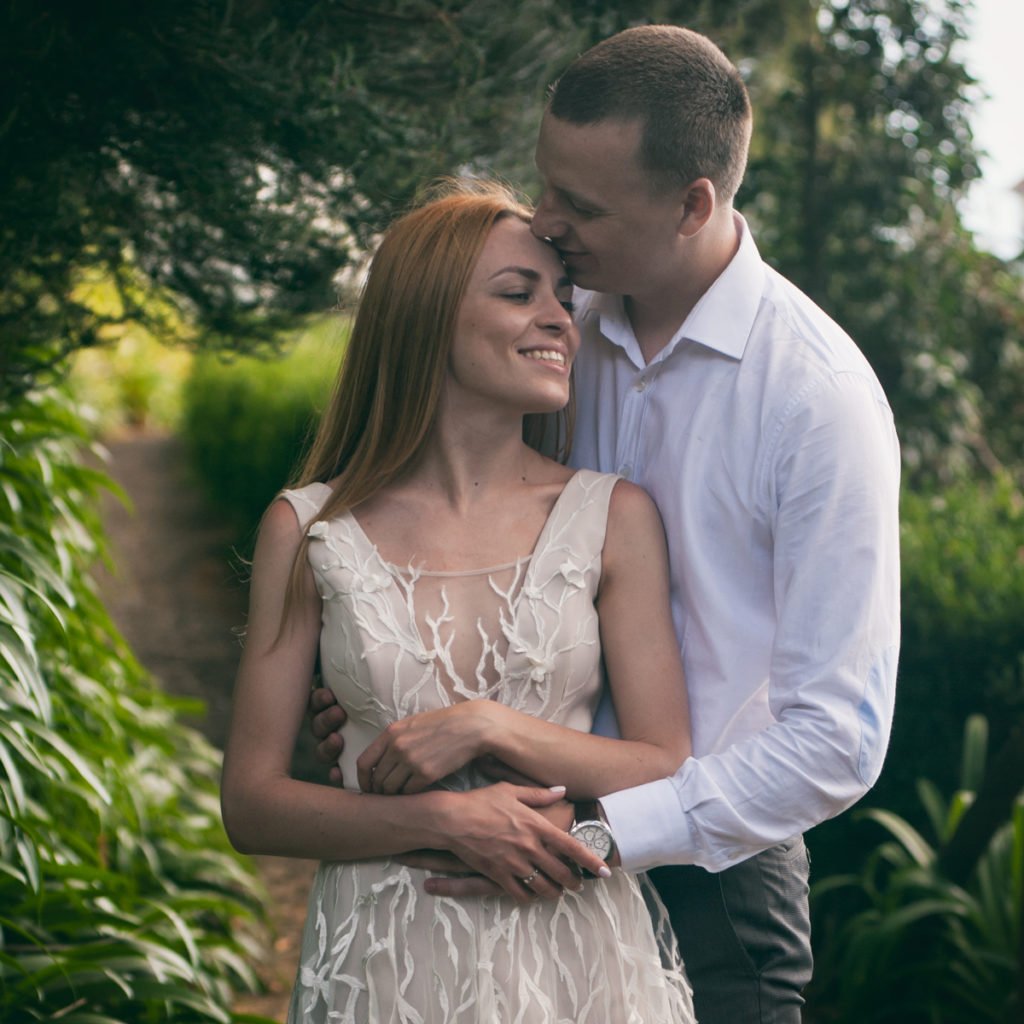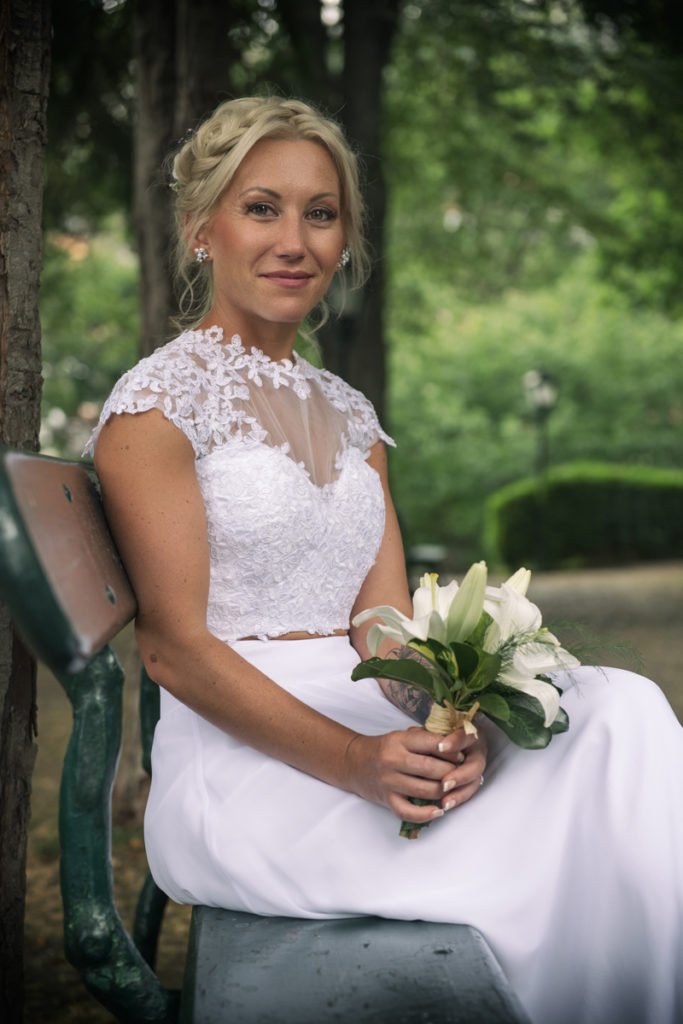 One of the most beautiful churches on the island has a wide staircase with a stunning view over the Funchal harbour. Even if you have your wedding ceremony is some other church, come to Monte if you have limited time for your romantic photo session. There is a beautiful garden around that has a free entrance: narrow winding passages paved with round sea stones, green moss and trees with flowers. All these will create a unique atmosphere and speak of deep feelings, devotion and love.
A bonus will wait for you in the Monte garden: two swans that live in the pond near the church. Consider Igreja do Monte for a quick photo session where you don't have too much time to travel to and spend inside the location.
The Botanical Garden in Funchal is probably one of the best places for a quick wedding photo session. It has the widest variety of colors and shapes of trees, bushes, and flowers and can provide space for any kind of imagination. The bride and the groom will be thrilled with the results of the photo session.
No, it is not the same as the Botanical garden. Although the two gardens are located quite close to each other, you need to take different roads to reach them. But there is even a bigger difference between the two places. While the Botanical Garden has a greater variety of species, in our opinion, the Tropical Garden provides more intricate landscapes: a labyrinth of paths, delicate stairs, statues and a waterfall. This location in Funchal is a great choice for the photo session of the bride and the groom. It is also good for a love story of a couple, honeymoon photography and even a family photography.
We would like to share with you a tip. Because the Garden occupies quite an impressive territory, it's not very easy to reach the needed spot with your models. Especially it is difficult if the bride is wearing shoes with high heels. But thanks goodness, the Garden has several entrances. Consider where exactly to park your car and you will find the location you need without too much stress to your feet.
Funchal City Photography
Sometimes you don't need to travel too far to take awesome photos. Urban landscapes with beautiful buildings, streets and passages can be a great background for a romantic photo session of newlyweds. The centre of Funchal has many of those! Light coloured houses and trees with flowers will help you create a wonderful flirting mood for the images.
Praia Formosa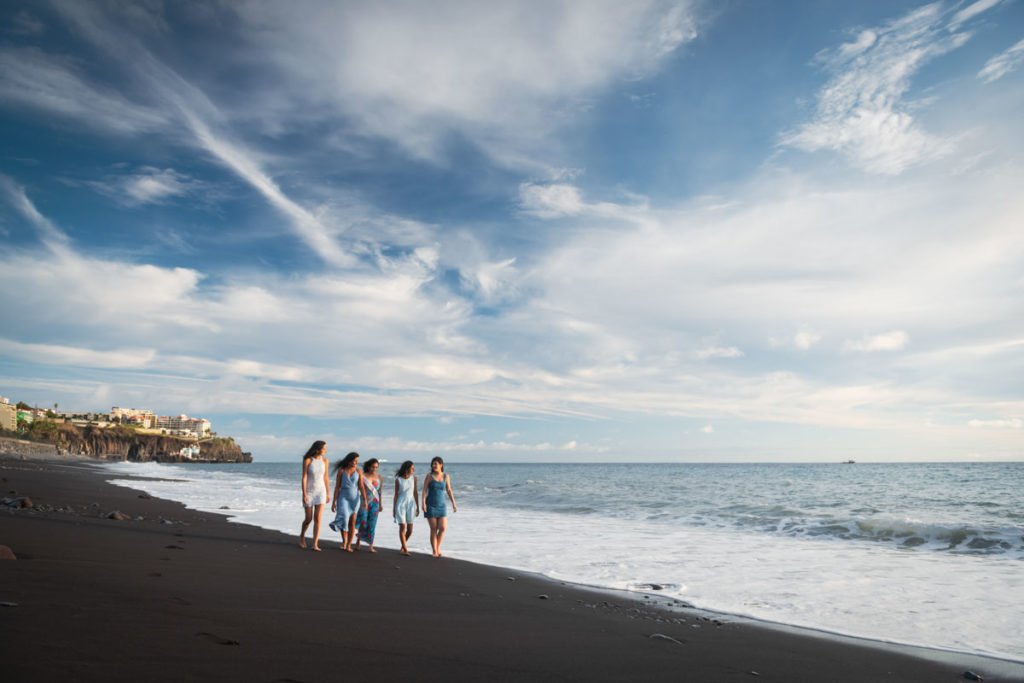 Finally, the beach of Praia Formosa between Funchal and Câmara de Lobos offers a long line of black sand and volcanic rocks to finish the scene. It looks beautiful as it is, but in the photos, the beach seems even better – more exotic. Also, as we wrote here, it provides a very flattering light for any model. Praia Formosa is very easy to reach, to park your car near and to find an appropriate spot.
But you need to consider two important things if you are planning a quick romantic photo session here.
First of all, this beach creates a charming golden atmosphere only once a day – during the sunset hour. So before planning your trip here, consult the hour when Formosa can give you the best of itself.
And secondly, if the photo session happens on the wedding day itself and the bride and the groom still have a dinner celebration after, they need to take a good care of their clothing: the volcanic sand once stuck to the hem of the dress may create an impression as if the wedding dress is dirty. So ideally you want your bride to wear a shorter dress and the groom to fold his trousers.
Once these precautions are in place, the photo session will turn magic.
Conclusion
These are the 6 best locations in Funchal we have tried with our clients and they proved great. What are other places in the capital of Madeira island that you could recommend? Write in comments or send us a private message!
---
Contact us to find more information and book a shoot with Art Photography Madeira.
Write to us. We respond quickly!
info@islandpic.com
WhatsApp: +351964479783
---
Eloping to Madeira: 5 Things to Know for the Memorable Photo Session of Your Wedding
Photo Session of Surprise Wedding Proposal in Madeira. She'll say yes!