Eloping to Madeira: 5 Things to Know for the Memorable Photo Session of Your Wedding
Eloping to Madeira is probably one of the most romantic things that you can do for your wedding. Honestly, if before my own marriage I had known how beautiful this place is, I would have definitely run away with my will-be spouse and marry here on a picturesque cliff! What a story for grandchildren that would have been! Especially if we had had a professional elopement photographer in Madeira.
Running away with your loved one has many advantages. First of all: the elegance and simplicity of the act of romance and devotion without the unnecessary hassle – when you don't need to plan for a huge ceremony and take care of all the army of guests.
However, if you decide on this kind of a wedding in Madeira, some planning still needs to be done. I am talking about the photographer, one of the most important constituents of a great eloping to Madeira. This is a person or a team who will accompany you during your special day and capture the best moments of your marriage ceremony and the love story of the bride and the groom on the most beautiful islands in the world.
Because the awesome footage will be wonderful proof to your family and friends how wisely you chose your elopement destination, here are 5 things for you to know when planning a photo session in Madeira.
1. Ask your photographer to provide a plan of the elopement photo session.
Your first contact with the elopement photographer in Madeira will most probably happen when you are still at home. This means that your knowledge of the locations for the photo session will be limited. Ask your cameramen to provide you with some suggestions for the love story photoshoot after the ceremony. Having actual photos of the places would be helpful too so that you could visualize them better. On our website, we have a collection of places for photo tours in Madeira, you can check them here.
Mind you, the most charming locations are quite spread around the whole island, this is why you will need not only to choose the spots but also to plan the route.
On the wedding day, a lot can depend on the weather, but there is a good help to locals – a dozen web cameras installed in various corners of Madeira. You can check them in nearly real-time and see where the best conditions for the photo session are.
2. Don't meet your elopement photographer in Madeira for the first time at the wedding.
If you arrive in Madeira a couple of days in advance, spare one hour to meet your photo crew in person and discuss all the details of the ceremony, locations, guests if any, and your preferences for the love story photo session. This will also give the photographer a better idea of your perfect elopement image for the two of you. Besides, the next time you meet you won't be strangers anymore and the atmosphere for the memorable photos will be more friendly and relaxed.
3. Don't disregard the before-the-ceremony time.
Here on the island, it's very popular to take photos of the bride getting dressed for the wedding, finishing the makeup, and arranging the final look with the help of bridesmaids and female relatives. The same works for the groom – with a suit, cufflinks, and leather shoes. Although a run-away photo session may be simpler compared to a traditional one, the footage of the preparation for the wedding will add an intimate touch to your special day and help to storytelling it to your family and friends with more color and emotion.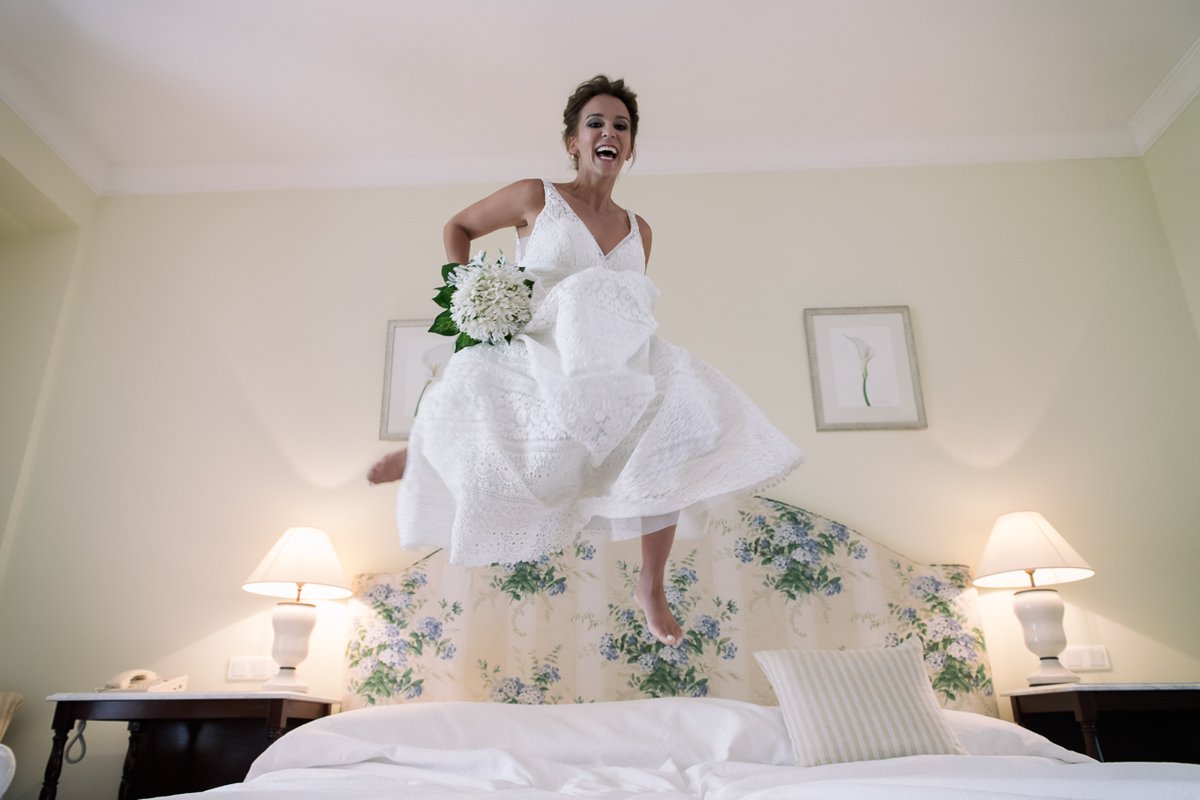 4. Ask the photographer what you need to prepare for the photo session.
Although the weather on the island is moderate throughout the year, the mountainous parts of 1000m above the sea and higher may suffer from strong winds and lower temperatures. Coincidentally, these places provide the most unique scenery and unsurpassed background for a marriage photo session. For the sake of comfort, you may want to take a jacket with you in the car. Your elopement photographer in Madeira should give you a heads-up on that.
Besides, it is quite possible that you will need to walk around a bit. Taking a pair of more comfortable shoes will save you from unnecessary suffering.
5. Agree with your elopement photographer in Madeira to have the first several photos during a day or two.
Getting married is one of the most solemn occasions in everyone's life. Some want to scream about it to the whole world, and for some having several photographs to share with family and friends is enough. Nowadays, having quick images from a marriage ceremony is very easy thanks to mobile phones in the hands of attentive guests. However, if you elope in Madeira, you may not have guests at your ceremony unless you bring them with you. Obtaining quick photos is more challenging because the quality production of a wedding photo session takes time. But there is a solution. Ask your photographer to make you several best photos during 1-2 days after the ceremony. It is a normal practice which will not take too much time on the photographer's end and provide you with a beautiful proof of your wedlock to share.
Use these tips and of your elopement photo session in Madeira will turn into a wonderful experience!
P.S. Here at Art Photography Madeira, we have the experience working with couples who decided on eloping to Madeira. Check the photos in our gallery and read the comments of our clients:
Andre and his assistant, Anastasia, were absolutely a dream. My husband and I eloped from the US to Madeira. It's a real risk to sign up to spend your whole wedding day with two strangers, but they were just incredible. They were relaxing, easy to work with, kind, and had such great ideas and locations for photos. The pictures are more than I could have imagined, and they sent a few beautifully edited in just 24 hours! Not only did I get stunning wedding pictures from Andre and Anastasia, but I feel like I also made life long friends. You won't be disappointed 🙂

– Gabriela Carvalho
---
Write to us and we will arrange the photo and video session. We respond quickly!
info@islandpic.com
WhatsApp: +351932086434
---
Photo Session of Surprise Wedding Proposal in Madeira. She'll say yes!
Romantic Wedding Photo and Video Session in Madeira: Key Ingredients
---