Do You Rent Out Rooms on Airbnb in Madeira? Use These 7 Tips to Make Awesome Photos Which Will Sell Your Property Like Hot Cakes
These 7 tips from an experienced photographer on how to make awesome photos of your real estate property will significantly improve the quality of your real estate photos. No matter what you want: to sell it or let it. Even if you have only a mobile phone camera.
A good image is a prerequisite for good sales. This is especially true for oversaturated real estate market where potential clients swipe dozens of offers a minute, and only a catchy photo can make them stop and gaze at your proposal.
Read this post if you:
– rent out rooms on Airbnb or similar services
– want to sell your real estate property
– work as a real estate agent
– are a tour agent
The suggestions below will help to create attractive images both for the interior and exterior of your place. Here they are.
Tips on how to make awesome photos of your property
1. Choose right time of the day
Make sure there is light in your windows when you take photos – rooms will look more attractive with natural sunlight. For interior photos, any time of the day will suit if the sun pours through. However, for exterior like in a veranda, a balcony, a porch, a garden, etc. – the photoshoot will work early in the morning or later in the afternoon when the light is soft and shadows are long. In this way, you will represent the surrounding in the most attractive way.
2. Add a nice touch to the interior
Add a vase with fresh flowers in the living room and a basket with fruit in the kitchen. This small detail livens the picture by far when you compare the final result. Keep in mind that for some rooms, taking pictures of details makes more sense than shooting empty spaces.
3. Keep the rooms clean
This may seem like an unnecessary recommendation however you will be surprised how many clients ignore this suggestion. Tiles in the kitchen and bathroom, faucets, and porcelain parts need to shine with cleanness and hygiene. They must blind a viewer with their sterile reflection.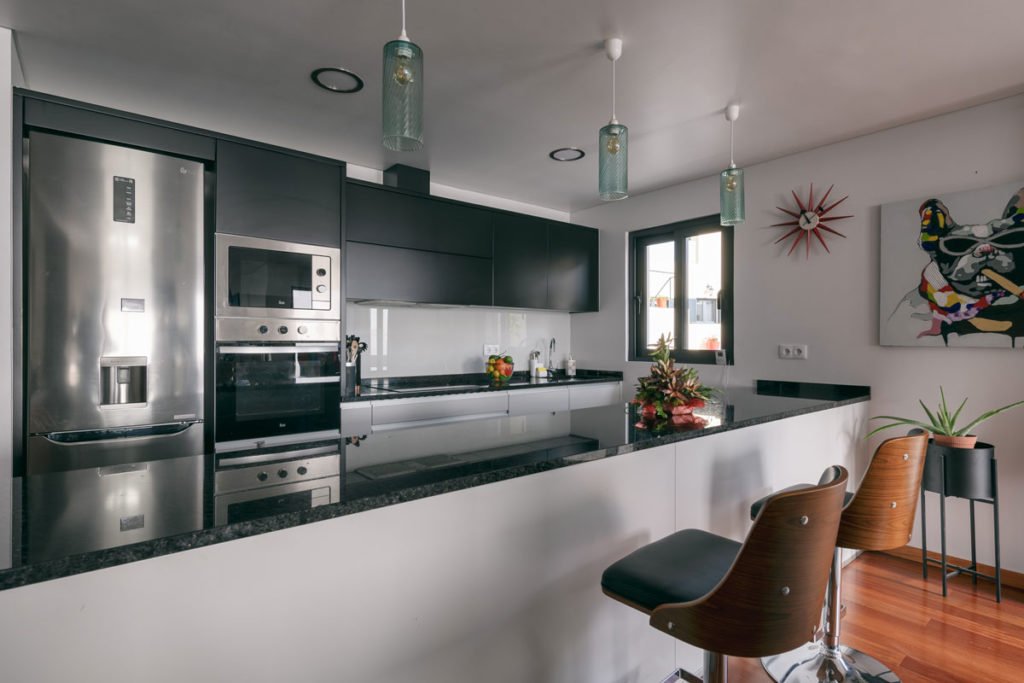 4. Get rid of excessive objects
Small pieces of decorum and furniture may look nice in real life but in photos, they may create an impression of a hoarder's harbor.
5. Keep your camera straight
Pay attention to horizontal and vertical lines in the frame. Making a shot from below or above the eyesight you risk to distort the perspective, and the room will look as if it's falling apart.
6. Make sure you don't reflect in a glass door or a mirror
Be careful about taking pictures of reflecting surfaces: glasses, mirrors, smooth furniture. Make sure that neither you nor somebody else or your tripod star in the picture: it looks unprofessionally.
7. Shoot interiors with bracketing exposition
Have you noticed it: shooting windows is a challenging venture. Either the sky is too bright or the room interior is too dark. Take the photos with bracketing the exposition. For example, the image below is a blend of two: one with the exposition measured by the sky, and the second – with the exposition measured by the interior.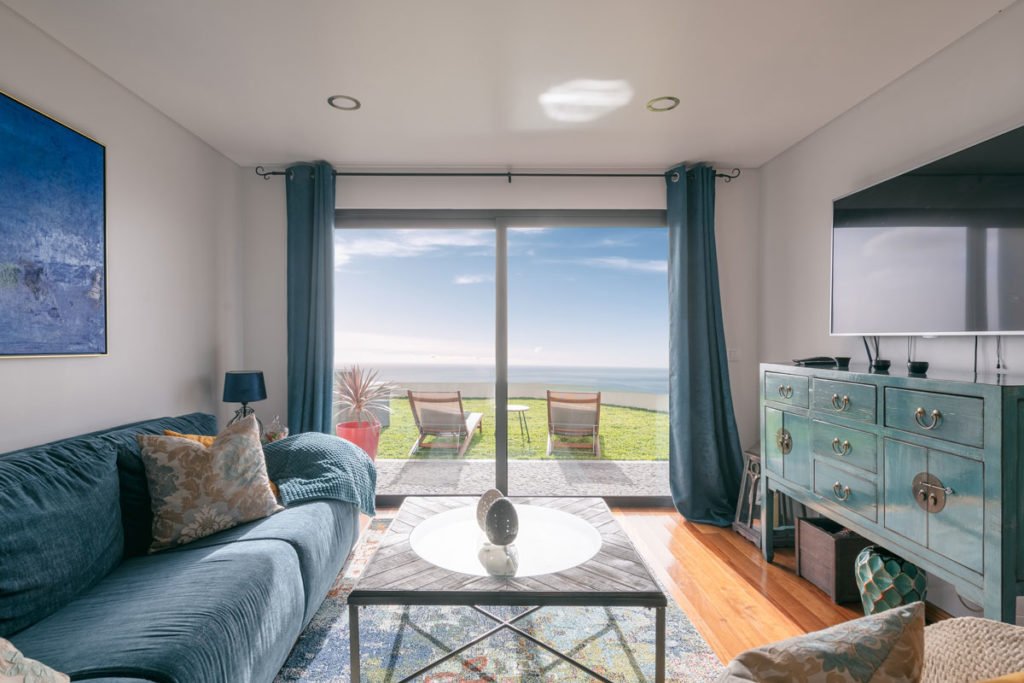 Notably, many of these tips will work even for mobile phone pictures. Although for more advanced images it's advisable to ask for professional help, especially if you want not only to rent out or sell your property but to do it more expensively.
Because the cost of a photographer's work is a speck in the cost of your apartment or house, you can afford to hire some good local photographer. You get the images once and use them ever since. And remember the more attractive the image of your real estate property, the faster you will have your customers.
Please let us know what you think of these tips on how to make awesome photos of your real estate property. Also, comment if you have other ideas on how to improve the quality of real estate photo shoots.
Write to us. We respond quickly!
info@islandpic.com
WhatsApp: +351932086434
---
Check more blog posts:
4 Things You Need to Know about Wedding Photo Session in Madeira
Most Flattering Light in Madeira
Photo Shoot in Madeira: Top 7 Places to Visit
---